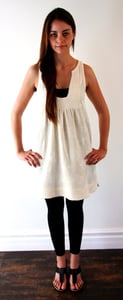 $

110.00
Mixie's signature beach net fabric is like no other. It's the perfect combination of vintage, natural, beachy vacation. You can wear it as a dress, a tunic, a bikini cover up, summertime, wintertime.... what eva!
Basically what we're saying is the fabric is to die for. Almost bedspreadish........... but in a good way?
*100% Cotton
*Hand Wash Cold (would be nice)
*made in a beach town in California by sweet & lovely people!